Home Readers for Primary Students - is there a purpose?
Written on the 17 May 2016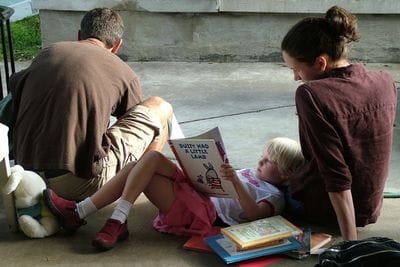 Most schools around Australia will have a version of home reading as part of their English curriculum. Books set at levels are given to children to take home and share with an adult. A written response is also often an expected part of the program. Are they a worthy use of time? Do they help students with their reading? Years of teaching experience tells me the answer is that yes, most definitely. However, in their current format it really can be hard going.
The materials used in most schools nowadays are commercially prepared packs, with activity sheets mainly requiring a regurgitation of facts from the text. The texts have a focus on words and their increasing difficulty, rather than quality literature. In many cases they are poorly illustrated, boring to read and have little to do with fostering a love of reading. The sigh of relief from the student and adult when the end is reached is testimony to the esteem in which they are held. There seems to be an emphasis on how many books are finished in a week, not how well they are used. Awards are publicly presented and filling log books are displayed as exemplary examples of star home readers.
Nothing, absolutely nothing, can beat one adult working with one child. Knowing just what the child needs and working together to develop these skills is invaluable. Teachers will identify areas needing extra work but lack of time does not allow them to give as much individual assistance as is needed. Adults within the child's support group can do so much. There, the dilemma begins. As a parent you want to help your child but the resources presented make this an onerous task. You are being asked to work within this school program, even though it isn't appealing. Releasing your creative inner self is required to satisfy both the needs of the school and yourself.
Make these times as enjoyable as possible by becoming an active participant and varying the sessions as much as you can. In the reading aloud process you could;
Read all the dialogue in the piece, modelling different expressions for different characters and leave all other text for the student
Reverse this process some times
Read small blocks of text and then get the student to re-read
Every now and again, select a word which the child found tricky and play with it a little. You could list words which rhyme it, list the members of its word family or use it in sentences where its meaning is a little different.
Occasionally try reading a little of the text upside down
Focus on the punctuation and over exaggerate their intentions. For example, every time you meet a comma, count out loud to 2 and then every time you meet a full stop count out loud to 4.
Responding to the text can include light-hearted or quite serious discussions. Giving and expecting opinions on characters, decisions made by characters, the plot or how the book could have been improved will all make the child engage in the text. Creating an argument with the student and expecting them to defend their position also creates a deeper involvement with the text. An example would be to select a character which you know your child would admire and make a derogative statement about them. Enjoy the debate you have with your child, expecting them to support their opinions with reasons and facts.
Having met the requirements of the school home reading program I strongly suggest you then visit your local library, school librarian, book store (if they still exist in your region) or a reputable online site and access titles of high quality literature which are appropriate for your child's age. Enjoy these books together, using many of the strategies already outlined above. The words will often be harder, the plot may be more difficult to follow and the books most likely will be much longer. As a parent and teacher, you will have the skills to make these reading experiences incredibly rewarding for your child and you will both enjoy these times together.
Suggested Reading Lists
Reading Australia
Australia's 50 favourite children's books words of magic to brighten kids' lives
Queensland Government Premiers Reading Challenge Suggested Lists